Jaynie Farnsworth has been the CEO of the Farnsworth Swim School for the last 13 years. She is a professional swimmer with over 25 years of experience training all levels of swimming, from absolute beginners to advanced, including swim team, adults & triathletes. Jaynie, a life-long swimmer, also swam competitively for 15 years. She is passionately committed to water safety and to creating swimming miracles in her students' lives. Jaynie holds a master's degree in education & a CA K-8 teaching credential.
Christina Buck has been the operations manager at Farnsworth swim school since 2016. She began competitively swimming at the age of 9 up until her sophomore year at Cal Poly. Her passion for swimming, combined with her calling to work with children, led her to teach lessons at the Farnsworth Swim School starting in 2011. Christina then taught 5th grade in Los Altos for 6 years. She is currently taking a break from teaching to care for her two children. Her 3 year old daughter, Addison, took lessons with FSS last summer and is really looking forward to coming back this summer! Her son Cooper (1.5) hopes to join in on the lessons next year.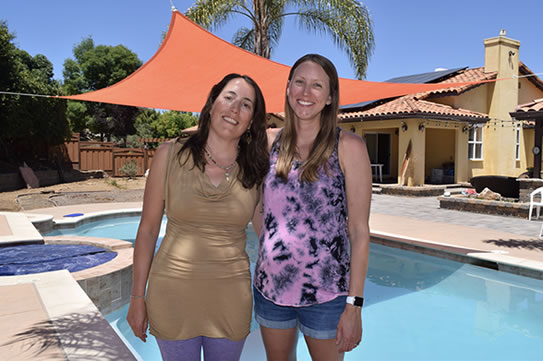 All instructors are highly trained in Water Safety Instruction, CPR, Farnsworth Swim School trained from American Red Cross & have extensive swim team experience. Jaynie and Christina will be teaching for part of the summer along with other excellent instructors.