Toddlers & Kids Swimming Lessons
Learn about water safety while having fun!
Our Toddler and Kids swimming lessons are optimal for learning to swim faster than group lessons because the student receives 1-on-1 specialized instruction that is tailored to their skill level and ability. In our multiple consecutive-day 20- or 30-minute private lesson format, students will improve their strokes and learn to swim after just five lessons. Each day the student improves dramatically! If you're tired of group lessons and want to invest in the success of your child, we're the right school for you!
Toddlers/ Absolute Beginners (Ages 1-3)
We teach toddlers as young as one year old to overcome their fear of water and to be water safe. They learn the following:
Blowing bubbles
Kicking
Proper arm movement
Breathing
Putting face in the water
Supported back floating
Deep water exploration
Jumps
Knee dives when ready
They get deep-water exposure in order to create a powerful foundation for water safety. As they overcome their fear, they learn to enjoy the water!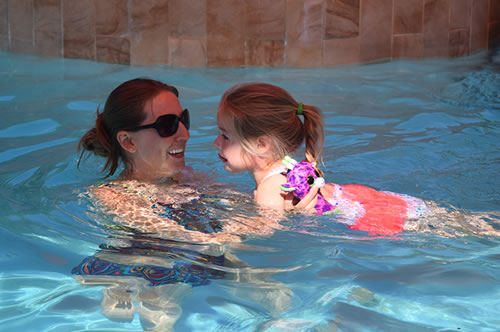 Kids (ages 4-11) / Advanced Beginners-Intermediate
We teach kids aged 4-11 years powerful swimming techniques to overcome fear of the water, to build confidence and learn water safety skills. Kids learn the following:
Proper breathing
Proper kicking on back & front
Floating without support
Proper stroke technique for freestyle and backstroke
Learn other strokes when ready
Water safety skills
Confidently putting face in the water
Treading water
Proper dives
Reaching for rings
Overall pool safety
All
swim instructors
are trained in Water Safety, Lifeguarding, CPR, and First-Aid. We have been teaching swimming lessons in San Jose for over 30 years.