**We are a summer seasonal program only**
Summer 2021 registration opens the week of Feb 22nd.
The 2021 Summer Season runs May 31st – August 5th. 
Sessions are scheduled on weekdays between 9:20am-1pm and 2:50pm-7pm.
Our accelerated 1-on-1 program is so effective that students will get results in as little as 5 days. However, students get the best results with a minimum of 8 days. Many students take 3 consecutive weeks of swimming lessons (one 5-day and one 8-day session) to meet their personal swimming goals. Read more about our recommendations on our FAQ's page.
SESSION 1: May 31-June 4 (M-FR / 5 DAY)
SESSION 2: June 7-10  (M-TH / 4 DAY)
SESSION 3: June 14-17 & June 21-24 (M-TH over 2 consecutive weeks / 8 DAY)
BREAK 4th of July: OFF June 25- July  4
SESSION 4: July 6-9 & July 12-15 ( T-FR & M-TH over 2 consecutive weeks / 8 DAY)
SESSION 5: July  19-23 (5 DAY)
SESSION 6: July 26-29 & August 2-5 (M-TH over 2 consecutive weeks / 8 DAY)
We May add the week of August 9th
To achieve optimal results at an accelerated rate, your full participation and commitment are required over consecutive weekday lessons.
Please select a 20-min/30-min/40-min time block when you are available at the same time each day throughout the whole session, between 9:20am-1pm & 2:50pm-7pm.
Sessions are booking quickly and tend to fill up before the season starts. Register now to lock in your desired time.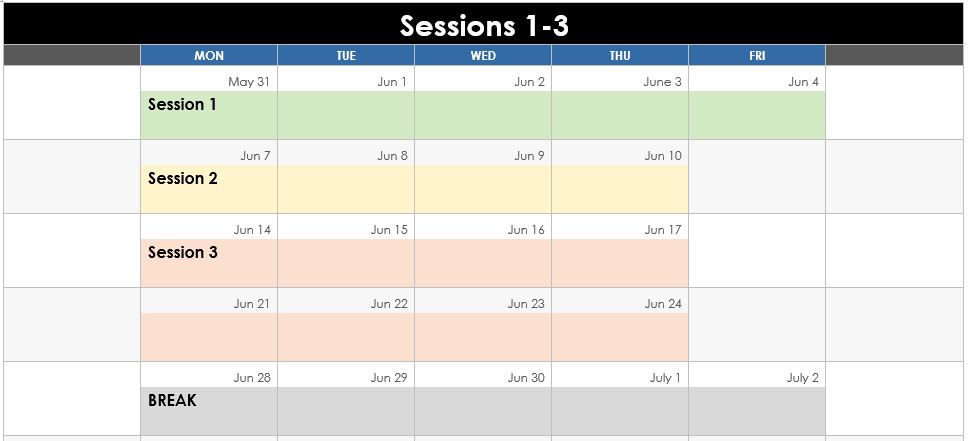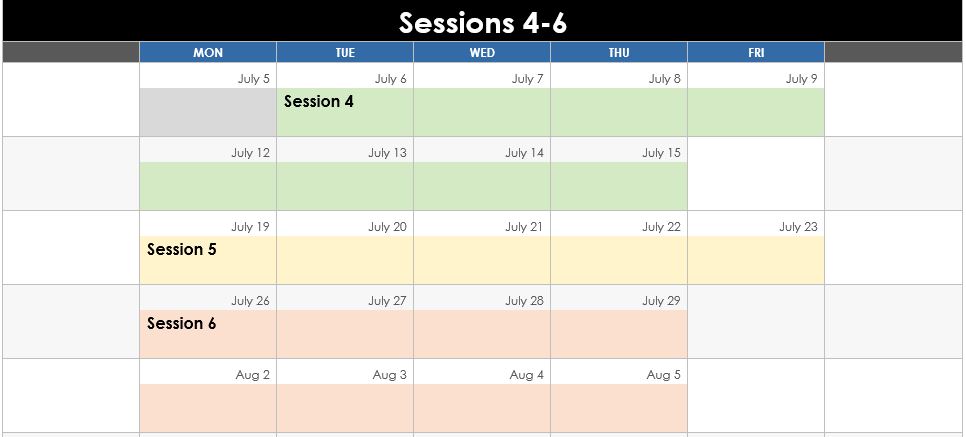 Click to enlarge calendars.