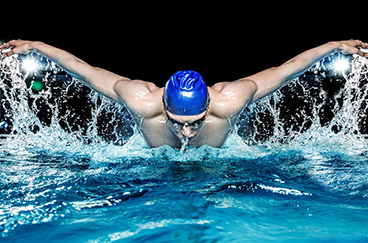 We offer specialized triathlete swim training for athletes who wish to gain a competitive edge.
In our multiple-day, 40-minute private adult swimming lesson format, you'll improve your strokes in as little as 5 lessons, but a minimum of 8 are recommended for optimal results. Often times, swimming is the weakest link for those training for a triathlon, and triathletes underestimate how challenging the swimming portion of a triathlon can be. You may be strong and athletic, and yet swimming can still come as a challenge because it's about learning the appropriate swimming techniques that will help you thrive during your race.
Our private swimming lessons are optimal for learning advanced swim techniques faster than group lessons because the student receives 1-on-1 specialized instruction that is tailored to their skill level and ability. In our accelerated program, lessons are taught over several consecutive days instead of once or twice a week. Each day the student improves dramatically! If you're looking for a competitive advantage and want to invest in your triathlon success, we're the right school for you!
We will help you address your specific swim training goals and you will learn the following:
Improve stamina
Correct underwater pull to swim strongly
Leverage your strength to swim with less effort and more energy
Feel more confident
Impeccable water safety
Stroke refinement of freestyle and backstroke as well as other strokes
Proper breathing to conserve energy
Improve kicking to also conserve energy
Improve times
Swimming tips to help you master your triathlon