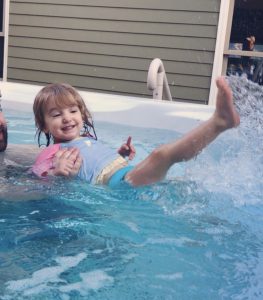 At Farnsworth Swim School, in addition to teaching 1 on 1 lessons to all ages & levels (including absolute beginners to advanced swimmers & swim team/athletes), we teach toddlers as young as one year old to overcome their fear of water and become water safe. For these young children, we really focus on getting them comfortable in the water, while emphasizing techniques that keep them safe.
One of the most important water safety skills a little one can learn is the ability to swim to the wall and grab on. In the event of an emergency, it is essential for a toddler to be able to make it safely to the wall and be able to hold on while keeping their head above water. Though it may seem simple, this skill is so important, and many brand-new swimmers have not had the opportunity to practice it. For this reason, we often spend quite a bit of time having these students swim towards the wall so that they know how to grab on and pull themselves in. We teach them how to hold on to the edge of the pool while planting their feet on the wall under the water, and then allow them to practice holding themselves up on their own. This is an American Red Cross Water Safety skill called moving from horizontal to vertical in the water. By learning this skill in a safe environment, they are more likely to be able to apply it in a real-life scenario.
Blowing bubbles is another essential technique that we teach our brand-new swimmers. The rhythm of inhaling while your mouth is out of the water and exhaling while your mouth is under water is so important for water safety and further stroke development. This can be difficult for toddlers to master, however, and they will often "choke" on quite a bit of water until the rhythm becomessecond nature to them. As hard as it is to watch your child coughing on water, the more they try blowing bubbles, the better they will get. As a parent of a 2-year-old, I have watched my daughter swallow quite a bit of water while practicing her bubbles in our hot tub. The more she often she tries, though, the less water she drinks each time!
When we teach toddlers and absolute beginners, it is truly amazing to see how confident and comfortable they can become in just a few short weeks. These little swimmers should never be underestimated!